Director, Producer, Lyrics and Dialogue: Naganatha Madhavarao Joshi
Casts: Naganatha Madhavarao Joshi, Prem Kumar Gadadhar, Shankar Bhat, M. N. Suresh, Master Varun, Prakash Sannkki, Krishna, Swati, Sunita, Anu Teja, Baby Harika, Baby Ramya
Cinematographer: Arasikere Deepu
Music Director: M. N. Krupakar
Background Music: K. Lokesh
Editor: Basavraj Acharya
Make-up: Vijay Kumar
Co-Producer: Premlatha N Joshi
99 Minutes, Kannada, India, 2015
Synopsis:
The family of CHENNA with his wife CHELVI and a son RANGA resides in a small village. Which is taken care by leader of that village (chairman of village panchayat)? As they are lower caste they are supposed to live outside the village. CHENNA's one and only dream is to educate his son and getting him a post of Deputy Commissioner of that region. CHENNA basically is a cobbler. As a support to his dreams his son is a clever and an intelligent student in his education and in society too and SHAMANNA is a teacher of that village school. RANGA is well treated and taken care by SHAMANNA teacher as because RANGA is his favourite student.
Unfortunately CHENNA s family is being treated as "Untouchables" in their village and leaders of that village are not interested and will be having opposition to RANGA s education growth and they need RANGA to continue their family occupation as cobbler and they try to convince school teacher (SHAMANNA) too. Leader of that village cancel all the facilities which has given by government to CHENNA. And also they de-notify CHENNA s land which belongs to his forefathers. As CHENNA is a illiterate he does not understand that cheat.
In such situation District commissioner of that region surprisingly visits that place and enquires the frauds of the leaders and helps to provide justice to CHENNA's family. And also facilitate that poor family by taking care of financial support for RANGA's education and his life.
Director/Producer Profile
Naganatha Madhavarao Joshi,Producer and director of Kannada film "CHIGURU" a multi skilled artist since 22 years. From the school and college days he was interested in writing plays which he took this as a hobby. In 1994, and when he was SSLC student started a publication " Sri Harikusumaprakashana" and published books called " Bhakti Rasa, Kusuma Kavya and Prabha Kusuma". These books are appreciated by famous writers of Karnataka. He won many awards from many social organisations of Karnataka.
He has also done documentary films on celebrities. As a writer, he wrote Screenplay, Lyrics, Dialogues for many films and television serials. Also acted in many film and serials and worked with senior famous directors, Artists in Kannada film industry. He participated in all India radio programmes and appreciated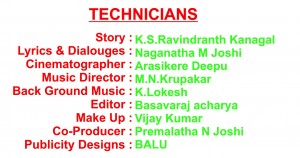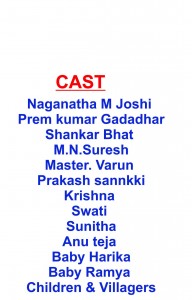 Snapshot